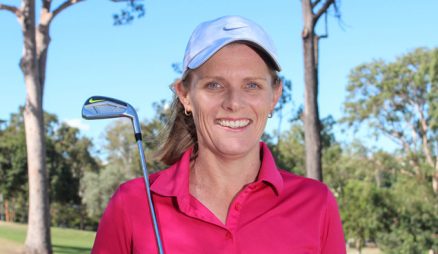 Thanks Bernie Pramberg for the nice article. 
Virginia Irwin is much more than a "Jill of all trades" around Golf Queensland.
Although she had turned her hand to varied tasks under the GQ umbrella, Virginia's real passion is coaching where her commitment and skill has been recognised by appointment to the Golf Australia national panel. 
"I've been involved at Golf Queensland more than 10 years and there is always something new happening,'' she said. "It is a great workplace … everyone does a bit of everything.
"I've been involved with GQ's high performance program for quite a while and have coached the state girls' team for the past eight years.
"Working with coaches the calibre of Tony Meyer, Gary Calder, Grant Field, Richard Harris and others has been fantastic.
"They are leaders in their field and there are no egos … the focus is purely on the athletes.''
In addition to her considerable coaching commitments, Virginia also works fulltime on Golf Queensland's Ladies, Let's Golf and iGolf Queensland programs.
Virginia joined the national coaching panel in 2015 and led the Australian team to victory in the Astor Trophy (formerly Commonwealth Trophy) in Adelaide that year.
She has also coached the Australian teams at the past two Queen Sirikit Cups (2015 in Hong Kong and this year in South Korea) and took a national team for the Toyota World Junior in Japan in June.
"At this level it is really more player management than coaching,'' said Virginia. "It's about providing strategies, preparation, course mapping, emotions and attention to detail.''
Virginia's involvement with golf started in Toowoomba when she was 15.
"I was looking for something different and took to the game quickly,'' she recalled. "I was coached by Mark Victorsen who was then the pro at Toowoomba Golf Club.''
Virginia blossomed as a player and earned Queensland and Australian selection as an amateur.
But illness and injury struck in her early 20s and she began having second thoughts about pursuing a playing career.
"I wasn't convinced playing was going to be my passion in the game,'' she said. "For a time I did not feel like I was able to compete.''
She had been playing at Indooroopilly for a number of years and committed to take on coaching, working with respected Ian Triggs at the club.
"As a player I was really intrigued with the golf swing, the bio-mechanics and the physical changes we had started to see as Tiger Woods moved through the game. The development of the athlete was always something I was interested in… ''
She worked on professional development and gaining higher qualifications.
"I went to a lot of forums. The PGA has some fantastic tools and resources which I utilised.
"I also looked outside the world of golf for knowledge. I really enjoy listening to coaches from outside the industry … people from the football codes, cycling and swimming were just some.
"Australia has some of the best coaches in the world and they are really open with sharing information.''
She believes an important facet of golf coaching in Australia is that most elite coaches also work with average day-to-day players and even beginners.
"Part of being a successful coach is the ability to adapt and to impart knowledge to players of all abilities,'' she said.
Time management is obviously an asset of Virginia Irwin … in addition to her coaching duties and job at Golf Queensland she is also a wife to Neil and mother to Nicholas, 13, and Charlotte, 10.
"I am so fortunate to have wonderful support from my family and Golf Queensland,'' she said.
"It works, but it can also be very challenging …"
 Story Courtsey – Golf Queensland